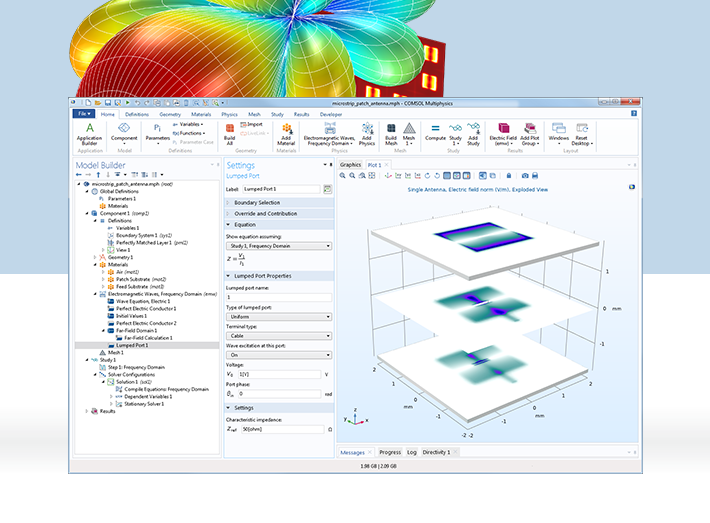 Você está convidado a participar do COMSOL Day para um dia de treinamento em modelagem multifísica, palestras e a oportunidade de trocar ideias com outros especialistas em simulação da comunidade COMSOL.
Visualize a programação dos minicursos disponíveis e seus resumos. Inscreva-se gratuitamente hoje.
Programação
09:30
Introdução ao COMSOL Multiphysics® e Model Builder
Esta demonstração introdutória apresentará a você o fluxo de trabalho básico do ambiente de modelagem COMSOL Multiphysics®. Serão abordadas etapas chave da modelagem, incluindo criação de geometrias, configuração de físicas, geração de malhas, solução e pós-processamento.
11:15
Introdução ao Application Builder e COMSOL Server™
Aprenda a converter um modelo em um aplicativo personalizado, utilizando o Application Builder, que faz parte do software COMSOL Multiphysics®. Você poderá carregar seus aplicativos em uma instalação do COMS COMSOL Server™ para acessa-los e executa-los de qualquer lugar da sua empresa.
14:15
Minicurso sobre Solvers
Aprenda as técnicas numéricas básicas e os algoritmos relacionados às simulações multifísicas lineares e não lineares. Serão abordadas as diferenças entre solvers diretos e iterativos, assim como diversos tipos e estudo, incluindo estacionário, transiente e análise de frequência natural.
Invited Speakers
Eduardo Pouzada
Instituto Mauá de Tecnologia - IMT
Engenheiro Eletricista com ênfase em Eletrônica formado pela Escola de Engenharia Mauá (EEM) do Instituto Mauá de Tecnologia (IMT). Mestre em Engenharia Elétrica pela Escola Politécnica da Universidade de São Paulo (USP). Doutor em Engenharia Elétrica pela Escola Politécnica da USP. Experiência docente desde 1982 lecionando em cursos de graduação na EEM. Atua em P&D na área multidisciplinar de "Aplicações Industriais de Micro-ondas" e "Microwave Chemistry". Foi Chefe do Departamento de Engenharia Elétrica da EEM entre março de 2002 e fevereiro de 2004 e Coordenador do curso de Engenharia Elétrica da mesma escola (de abril de 2000 até março de 2002 e de julho de 2004 até agosto de 2009). É associado fundador (1982) da Sociedade Brasileira de Micro-ondas e Optoeletrônica (SBMO), instituição que presidiu no biênio 2006-2008. É membro do The Institute of Electrical and Electronics Engineers (IEEE) e da AMPERE (Association of Microwave Power in Europe for Research and Education).
Inscreva-se em COMSOL Day São Paulo